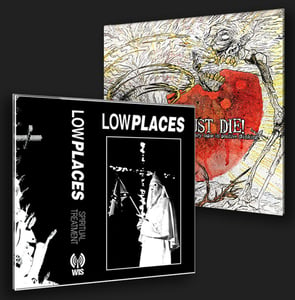 $

32.99 - On Sale
In this, limited to 10 ONLY! pack you get 1 copy of the Just Die! on black, 1 copy on mixed vinyl, and 1 copy of the Low Places special edition tape matte-black, and one regular matte-black tape all for 35 SHIPPED!!! TO USA/CAN - INTL ORDERS EMAIL ME BEFORE FINALIZING TRANSACTION, SHIPPING IS MORE WILL FIND THE CHEAPEST AND QUICKEST WAY.
again, only ten of these will be made available...AND GUESS WHAT!!!!!! 2 lucky people will be eligible for test presses of each release..thats right, one person will get the JUST DIE! lp test, and one will get the Low Places test press tape. yep. there we go, you know you want this all before it sells out and, save a few bucks and maybe get a bonus..you have a 10% chance of winning.
ONLY 9 OF THESE ARE LEFT, NO ONE HAS GOTTEN A TEST PRESS YET! THIS IS ALSO THE ONLY WAY YOU CAN GET THE LIMITED EDITION LOW PLACES CASSETTE NOW!
thank you